The Xchange Bradford - Stylish city centre living in Bradford
Published: 19th October 2015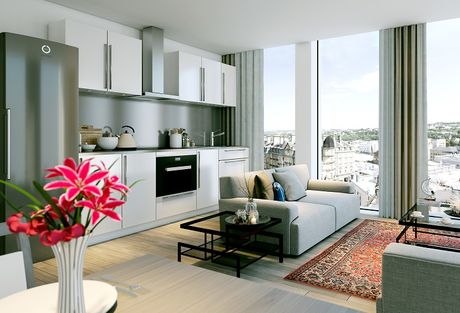 Comprising of 126 stylish one and two bedroom apartments, the new Xchange development is made up of 9 floors of retail space and residential apartments. Previously known as Arndale House, the Xchange is now getting rid of all its commercial roots and being transformed into a stylish, modern residential hub. For the residents of The Xchange there is a roof top garden with seating areas and water fountains with a stunning view over the city. The retail units are established and have been designed and transformed by award winning architects. The property has secured parking facilities for any cautious owners.

Being located in the heart of Bradford city centre, the Xchange Bradford is in close proximity to all the major amenities such as the shopping district, train station, university, theatre etc. This would mean The Xchange would be a very popular residential property, especially for people looking for apartments for sale in Bradford for investment or buy to let purposes. It could be used for a range of people from people who need accommodation for university to people who just want to embrace a more urban lifestyle.
The shopping district is literally within the development so you do not even need to travel, it is also located directly next to the £260m Broadway shopping and leisure complex (due to open November 2015). The train station is a 5-minute walk away for if you wanted to transport to another destination. For students of the University of Bradford, it is only a 13-minute walk away. Other attractions such as the National Media Museum and Alhambra Theatre are both only an 8-minute walk away.
The apartments on offer are 1 bedroom apartments for £57,450 and are 34.50 square metres in size. The other ones on offer are 2 bedroom apartments which are £82,950 and are 53.60 square metres in size.
If you are looking to purchase a buy to let property in Bradford or the surrounding area, why not contact us today on enquiries@pureinvestor.co.uk for your free online pack on the Xchange.