Sheffield Property Investment Guide
Sheffield offers investors a range of buy-to-let investment opportunities located in the heart of the city, making them very appealing to buyers. With estimated yields of up to 8%, depending on the postcode you decide to position yourself in, investors can start or expand their investment portfolios in a city that continues to improve year-on year.
In regard to house prices, semi-detached properties were the most purchased type of property, with an average value of £215,874. However Terraced properties, which weren't far behind in regard to the number of sales, sold for an average of £175,842 whereas the average sold price for a detached property was £377,888 (RightMove).
Investors will be happy to know that the average house price in the Sheffield area has risen 9% on the previous year and an impressive 14% since 2018.
Why should you consider a Buy-to-Let Investment?
House prices have increased by around 14% since 2018.
Rental Yields in Sheffield can reach up to 6-8%.
£480million is to be invested into Sheffield's retail sector.
Over recent years the north of the UK has definitely jumped up the popularity rank as more and more people look for other opportunities outside of London and find themselves in other tech and business hub such as Manchester, Birmingham and now Sheffield.
With the increase of commuters and permanent residents, the demand for suitable accommodation for young professionals, students and even families have never been more apparent.
Luckily, many of these individuals are happy to take advantage of rented property that allows them to get their feet on the ground as they adjust to a new city and in-turn investors can meet the growing demand.
There are, however, a number of other factors which make Sheffield an excellent destination for buy-to-let property investment, starting with the fact that it has one of the best geographical locations in the UK with Manchester only an hour away to the North West and London just two hours away to the south east.
In addition to this, many international destinations can be accessed directly from one or more of the four regional airports within an hour's drive of the city.
Combining these transport connections with excellent digital infrastructure, an existing pool of both young student talent and more experienced professionals and great affordability and it's easy to see
why Sheffield has become a popular destination for businesses, all the more so because its proximity to other key locations can help to persuade people to make the move to the city.
Long Term Capital Growth
If you're curious to see whether Sheffield is worth the investment, look no further. Long term capital growth in Sheffield is just another reason why the city has been given the spotlight and why it continues to place itself among the rest of its northern hotspot competitors.
| Postcode | 5 Year Sales Price Growth Forecast (Cumulative %) |
| --- | --- |
| S1 | +23 |
| S2 | +21 |
| S3 | +23 |
| S6 | +24 |
| S10 | +23 |
| S17 | +25 |
Data according to propertydata.co.uk
Student Property Investment in Sheffield
---
Alongside a thriving cultural community, the student population of Sheffield can't seem to stop growing. With over 60,000 students studying in the area, many of which continue to work and live in Sheffield once graduated, the area has evolved into a hub of culture, entertainment, and life.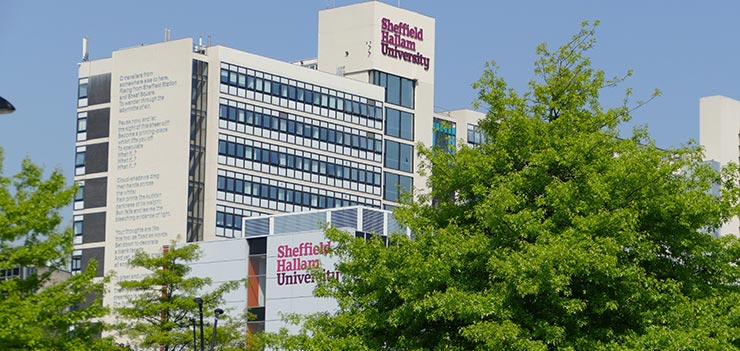 Sheffield is home to two universities; The University of Sheffield and Sheffield Hallam University, both of which offer a huge range of opportunities to its students and staff, another reason why so many people are turning their heads to Sheffield.
Due to the growing student numbers and interest in both universities and career opportunities that lie ahead for its students, property investment in Sheffield, particularly in the student accommodation market is definitely worth considering if you want to catch the demand at its highest.
Development of Sheffield's Universities each year continues to make student life more appealing and so it's quite clear to see why both universities are ranked very highly within the UK and Europe. Sheffield doesn't however just cater to those currently studying within the city but wants to help graduates and young professionals stay within the city and grow with it.

Sheffield's Property Market
---
Homes needed pa over the next 10 years: 2000
Average supply pa over last 10 years: 1400
Population aged 16-64: 65.8%
Salary to house price ratio: 5.6
Population Growth(next 5 years): 0.71
Given the current circumstances in the property market, Sheffield has actually experienced a positive growth from the 2020 pandemic. Some sources state they saw the highest increase in offers accepted in June of 2020 with house viewings also increasing during this month.
Even with the rocky terrain that the property market is making its way across, buyers and sellers are clearly taking the opportunity to move home whilst they can, especially as there are several elements to the buying and selling process which are currently exempt, saving house movers thousands.
Sheffield House Prices
Postcode

2020

Flats
Detatched
Semi-Detached
Terrace
S1 (City Centre)
£118,195 (60)
£0
£0
£169,000 (5)
S2 (City Centre)
£107,808 (40)
£271,746 (9)
£146,137 (100)
£122,516 (123)
S3 (City Centre)
£121,082 (81)
£0
£131,083 (6)
£115,120 (10)
S6 (Upperthorpe)
£119,710 (70)
£338,828 (68)
£210,025 (166)
£162,465 (270)
S10 (Fulwood)
£222,441 (70)
£618,492 (75)
£354,340 (70)
£218,771 (125)
S17 (Dore)
£188,870 (25)
£515,296 (72)
£343,042 (34)
£248,468 (22)

Postcode

2019

Flats
Detatched
Semi-Detached
Terrace
S1 (City Centre)
£119,146 (174)
£500,000 (1)
£0
£255,777 (9)
S2 (City Centre)
£80,966 (185)
£162,400 (42)
£133,023 (234)
£124,737 (221)
S3 (City Centre)
£126,341 (204)
£258,000 (5)
£128,961 (13)
£129,081 (27)
S6 (Upperthorpe)
£124,065 (126)
£351,353 (168)
£198,730 (286)
£159,692 (470)
S10 (Fulwood)
£211,722 (128)
£546,799 (103)
£351,783 (158)
£204,252 (244)
S17 (Dore)
£185,707 (33)
£527,728 (130)
£316,684 (97)
£217,305 (28)

Postcode

2018

Flats
Detatched
Semi-Detached
Terrace
S1 (City Centre)
£125,450 (241)
£0
£273,000 (1)
£157,333 (3)
S2 (City Centre)
£108,097 (81)
£175,881 (30)
£138,801 (234)
£123,714 (183)
S3 (City Centre)
£110,121 (262)
£225,000 (1)
£131,285 (14)
£187,547 (21)
S6 (Upperthorpe)
£102,479 (170)
£342,454 (142)
£190,580 (250)
£152,795 (507)
S10 (Fulwood)
£197,158 (123)
£539,493 (132)
£348,696 (160)
£225,351 (248)
S17 (Dore)
£218,042 (38)
£408,308 (142)
£310,100 (116)
£220,393 (31)
Number in brackets is the total number of sales.
Data provided by Gov UK Land Registry.
Sheffield Rental Returns
When it comes to Sheffield buy-to-let property investment, there are two areas which stand out in particular, namely S2 and S1, both of which offer convenient access to key "town and gown" locations and as such are popular with students and young adult professionals. Because of this, properties in these postcodes can deliver yields in the region of 6% to 8% or even higher.
While these figures may not seem particularly impressive in comparison with what can be achieved in other parts of the north, it's worth noting that Sheffield is a relatively mature market and property prices reflect this, although they are still very affordable compared to the Thames Valley area.
The local authorities in Sheffield are well aware of the fact that affordability (as compared to London) is one of the city's major attractions and a key driver of its economic growth and are therefore working with developers to increase local housing stock with a particular focus on providing affordable and high-quality housing for the growing student population as well as the young adults who migrate to the city from elsewhere in the UK.
This means that there are generally plenty of options for off-plan purchases of buy-to-let in Sheffield, which can provide a very economical way for investors to enter the Sheffield property market.
Rental Yields By Postcode
Postcode
(%) Average Rental Yield
S1 (City Centre)
6.6
S2 (City Centre)
4.8
S3 (City Centre)
6.1
S5

(City Centre)

4.6
S6

(City Centre)

4.3
Data according to propertydata.co.uk

Sheffield Amenities & Transport Links
---
Amenities
As expected with a city that's thriving with students, young professionals and families, Sheffield has something for everyone and it's just one of the reasons people continue to visit the city year after year.
Due to its location, Sheffield is both home and surrounded by popular attractions such as the Millennium Gallery, Sheffield Cathedral, and it's just a short drive away from the historic Chatsworth House, which welcomed a huge 622,620 visitors from the UK, Europe and the United States in 2019 alone.
Sheffield has something for everyone, from those who want to enjoy the buzzing night culture to individuals who want to escape to the countryside.
Aside from 'things to do' in Sheffield, many are pulled in by its musical heritage. As the birthplace of Def Leppard, Bring me the Horizon and even the Arctic Monkeys, the music scene in Sheffield is one of the UK's leaders.
With everything Sheffield has to offer it's no surprise people are reporting on its tourism boom and how visitors are spending around 1.2 billion every year within the City. This type of economic contribution should be a clear sign to investors that there is plenty of property potential for tourists who turn into permanent residents.
Infrastructure and Transport
With an estimated 17.2 million visitors and tourists entering the city, the transport infrastructure in Sheffield also has to keep up the pace - and it certainly does.
Sheffield Transport Vision
The Sheffield Transport Vision which includes a strategy and plans to improve Sheffield's transport infrastructure is targeting key areas of the cities transport links with hopes of achieving this from 2025 and beyond.
Key elements of the strategy cover every area of transport, from train and tram to cycling and walking. Plans to create better and faster bus, tram, and train services, as well as improving the roads to create better connecting routes to other major road networks.
Another huge investment into the city involves the HS2 which aims to improve the way in which people get in and out of the city. Sheffield current connecting station; Sheffield Midland station is very much integrated into the city and as it's fairly central within the UK there are plenty of travel options if you want to explore outside the city.
Connecting Sheffield
Another notable development for the city is 'Connecting Sheffield' a £50m investment which will contribute to public transport, walking and cycling links with the hope that more people will leave their car at home and take other means to get around Sheffield.
The overall aim is to improve transport links around the city but to also help towards cleaner air and less pollution by reducing the number of cars on the road and the traffic it creates daily.
First steps of the plan are to focus on certain areas of the city which includes: Neepsend, Kelham and Nether Edge as well as the city centre itself and Lower Don Valley.
The English capital of London is less than three hours away, Scottish capital of Edinburgh 4 and a half hours and Welsh capital Cardiff 3 and a half hours away.
Sheffield is linked to the closer northern cities of Leeds, Bradford and Manchester with less than an hour of travel time, whether by car or one of its urban railway stations. The nearest airport is 45 miles away and connects Sheffield to a number of European destinations and the east coast of the United States.
Sheffield is built upon the banks of the River Sheaf, which is separated from neighbouring city Rotherham by the M1 motorway network. Located just to the east of the Peak District National Park, Sheffield attracts thousands of tourists every year

Regeneration and Investment into the City
---
Sheffield has seen a wealth of regeneration projects become reality, creating a more attractive place to live, work and invest. These improvements include the city's transport links and facilities and attractions around the city. The Northern PowerHouse Initiative has its own plans of investment.
Developments such as The Moor, the £90m deal to relocate HSBC and regeneration for the Castlegate area is making the city an exciting place for investors as all of these projects will improve the economy, create more jobs and increase the cities overall population.
This positive growth continues to move forwards, with Sheffield moving at around 5% annually which is a leader amongst the Yorkshire and Humber areas.
Big brands continue to invest into the city, bringing more employment opportunities and growth into the city. These include IKEA, Jet2, HSBC and more.
Heart of the City II
This incredible £470 million plan is aimed at redeveloping the area specifically behind Pinstone Street. This new developed area will include brand new shops, hotels, food and public spaces for residents, students and tourists to enjoy.
More good news for this project involves working around historic buildings that many residents were concerned would be compromised for the new development, but plans have been made to keep these intact and almost integrated into the new constructions.
The Northern Powerhouse
If there's one particular investment that property investors should take note of, it's the Northern Powerhouse. A huge £13 billion investment into northern cities such as Manchester, Liverpool, Newcastle, Leeds, Hull and of course, Sheffield.
Naturally HS2 is a core part of The Northern Powerhouse project with plans to connect each city, making travelling up and down the county a breeze. Not only will it connect people, but it will create up to 100,000 new jobs, potentially increasing Sheffield's population even more, as it will be even easier to commute from city to city.
The Moor
Seen as one of Sheffield's most popular shopping destinations; The Moor is getting a huge facelift to increase and improve current retail stores by welcoming new popular brand names such as Primark, the Light Cinema, Specsavers and seven new household named restaurants.
It's also worth knowing that The Moor is home to over 90 independent businesses, making it an incredibly popular place for students, residents and tourists who want to 'shop small' and invest in the local economy.
Sheffield Local Plan
With plans to begin the development from 2023 up to 2038, the Sheffield Local Plan is not just about improving transport but also shops, parks, housing and even the issues surrounding global warming.
Alongside this is the plan to hold on to the city's heritage by improving on existing neighbourhoods in Moorfoot, Neepsend and Castlegate. As the population of Sheffield continues to increase, the need for more suitable housing has been on the cards for some time and these local developments aim to tackle this.
Councils hope that the new plan will have huge benefits towards local businesses and job creation, which in turn will improve the city's economy. Especially due to the impact of COVID19 the need to improve green spaces, parks, local services, and attractions appears to be at the forefront of getting Sheffield back up and running again.

Market Predictions
---
Sheffield is undergoing extensive population growth, which is expected to continue until at least 2025 and is, of course, increasing the demand for property. There is a particular need for high-quality rental property to suit young adult professionals, which creates a number of exciting opportunities for investment in buy-to-let in Sheffield.
The population of Sheffield currently exceeds 550,000 (mid-2017 est.) and as the population continues to grow, this has had a natural impact on increasing house prices, along with demand.
Aside from residential housing and commercial property in Sheffield, the city is becoming more and more attractive to students and therefore student accommodation, flats and city centre apartments are in strong demand for those relocating to the city.
Investment in Sheffield not only comes from student, residential and commercial property, but the economy in general, which continues to develop at a rate of 5% each year and has seen its many industries, such as digital media, manufacturing, finance, engineering, and technology, grow and expand, which is what makes this city so attractive to the 52,000 businesses that currently operate in Sheffield.

Sheffield Property Investment Hotspots
---
Sheffield City Centre
City Centres are usually a hotspot for property investment, from studio flats to terraced houses and with so many people working and living in and around Sheffield, there will always be someone looking to purchase their next property within the city.
The S1 postcode, which is featured on the Totally Money's Buy To Let Yield map could present an interesting opportunity for property investors, especially as the location on average can yield up to 8% on rental returns.
It's no secret that residential property in Sheffield is very affordable and data from the HM Land Registry, showed that average sale prices of properties in the S1 area came in at around £126,917, just under £10,000 less than the average sale property price of Liverpool's popular L2 postcode.
Another notable area of S1 is the ever-popular St. Paul's Square which draws in many individuals looking to enjoy a livelier city atmosphere, especially after its redevelopment which gave the entire area a much-needed face lift.
St. Paul's is also in a perfect location for potential tenants who would rather walk and enjoy the city in all its glory than use public transport. You'll find many students and young professionals enjoying this area as it's just a short walk to Sheffield Station, taking travellers straight to Manchester or London.
Fulwood
If you would prefer an investment with a bit more reliability, Fulwood is popular among families who are looking for an area that can provide them with plenty of green spaces away from the hustle and bustle of the city centre.
Fulwood is also popular for the balance it provides its residents, it still has plenty of bars, cafes, and pubs for people to enjoy but is also home to excellent schools, which many families will be putting high in their location priority list.
The area is just a short 3 mile drive from the city and so it's perfect for those who still wish to commute into Sheffield but would be happier living just outside of the centre.
According to RightMove, Fulwood had an overall average property price of £450,476 over the last year. Due to the nature of the area, many of these properties were semi-detached and detached properties. The average price for flats sold in the area came in at around £214,406.
This data also shows that overall property prices were up 21% from the previous year.
Dore
Despite originally being a part of Derbyshire, Dore has become infamous for being one of Sheffield's most beautiful and historically affluent suburbs making it highly attractive to investors and residents alike.
Despite its small-town feel, Dore offer residents access to a myriad of facilities suitable for all ages and interests. However, its excellent transport links also make it easy to travel to other nearby cities if you prefer the excitement and amenities that only the city centre can provide.
The area itself is around 6 miles west of Sheffield city centre and a mere 15 minutes from central Sheffield making it ideal for those looking to commute and work in the city but would be happier away from the stress often associated with city centre living.
Despite being a popular area real estate prices have often kept Sheffield residents away from Dore. According to data from Zoopla, the average property value has increased by 9.21% to £558,023 over the last year. Opposed to the city centre, the most abundant property type in Dore is detached properties which currently have an average value of £617,048.
Crookes
For those looking for a vibrant, up and coming location, look no further than Crookes. This traditionally tranquil location has established the perfect balance combining all the best features of a traditional suburb and the bustling city centre.
Situated close to the University of Sheffield, Crookes has a large student population meaning that residents have access to a variety of clubs, bars and, restaurants all of which help make Crookes livelier and more vibrant than the majority of Sheffield's surrounding areas.
Additionally, Crookes is only a 20-minute walk to Sheffield city centre making it ideal for all types of people including families, young professionals, and students.
Over the last 12 months Crookes has experienced steady house price growth and now has some of the most reasonable averages of all the surrounding towns. According to recent house price data from Zoopla, the average house price value currently sits at £199,046.
Broomhill
Located on the border of Crookes, Broomhill offers many of the same amenities and facilities meaning that the majority of people often make the switch from Broomhill to Crookes.
Despite being similar areas, Broomhill has its own, unique collection of facilities including a range of different eateries, supermarkets, fashion outlets and pubs making it ideal for a range of different residents including students and young professionals.
Sales data from Rightmove indicates that Broomhill had an average house price of £279,457 with the most popular house type being flats which came in just below the average, selling for roughly £216,265.
Upperthorpe
Upperthorpe is the ideal location for those looking for a vibrant location without a large student population and is the perfect alternative to Crookes and Broomhill. Whilst the area does still have a sizable student population, Upperthorpe is most popular among families and younger couples.
Located just down the hill from Crookesmoor and adjacent to the Ponderosa Park, Upperthorpe has received an uptake in house price growth over the last 12 months. Despite this increase, house prices remain lower than those in Crookesmoor with the current average price paid estimated to be £158,500 according to data from Zoopla.
Ecclesall Road
Ecclesall Road is rich with a wide variety of different amenities including pubs and cocktail bars synonymous with the large student population. Alternatively, The Botanical Gardens and Endcliffe Park are located just nearby which both offer vibrant natural spaces ideal for families.
The Ecclesall Road community has convenience at its core and offers residents everything they could possibly desire in terms of local amenities making this the ideal place to settle down.
With regards to house prices, over the last 12 months, Ecclesall Road has experienced an average 8.79% increase, with the current average house value estimated at £259,532. Although in previous years flats were the most popular property type, it seems in 2021 and the last 12 months, terraced houses have had double the sales of flats. You can expect to purchase a terraced house on Ecclesall Road, at an average price of £214,000. (Zoopla)
S2 Postcode Area
The S2 postcode area is home to a wide variety of different, popular suburbs such as Highfield, the Arbourthorne Estate, Park Hill and more and, as such, has a wide appeal to students, young professionals and, more importantly, families.
The area itself falls just outside of Sheffield city centre and has little to no significant attractions or amenities. Instead, it is home to a wealth of primary schools, supermarkets, and college academies making this area most popular amongst families looking for a long-term residence.
Over recent years Sheffield, and the S2 postcode area specifically, has grown drastically in popularity and now offers some of the highest rental yields in the country. Over the last year, the S2 postcode has received rental growth unlike any other with an average yield of 8% on buy to let properties.
House prices have also seen strong growth over the last 12 months with an estimated 4.98% growth taking current averages up to an estimated £136,088 according to data from Zoopla.

Sheffield's Surrounding Towns
---
Part of the wider Sheffield City Region Local Enterprise, Rotherham has been the subject of significant investment in recent years from a series of large, local employers, such as Rolls Royce. It is this investment that makes Rotherham such a popular area amongst buy to let investors.
Residents of Rotherham will benefit from its range of amenities as well as the wealth of jobs on offer which has facilitated the increase in demand for rental accommodation over the last few years.
With regards to individual house prices in the area, Rotherham has been the subject of steady rental growth year on year, with house prices growing by an estimated 6.23% over the last 12 months leading to a current average house price value of £159,906.
Similar to Rotherham, Barnsley is an area that has been, and still is, benefitting from large amount of regeneration finance and investment over recent years with many projects - such as the Barnsley Interchange Transport Hub - already completed.
The area itself is mainly dominated by students with 13% of the local population falling into that category. This means that Barnsley will have a host of local amenities on offer as well as excellent transport links, in and out of the city, to major areas such as Sheffield and Leeds.
According to data from Zoopla, house prices in Barnsley have experienced steady and consistent house price growth over the last few years with current average house prices now an estimated £148,706 - up 5.79% from the previous year.
Doncaster
Doncaster is an area driven by industry and has become famous, historically, for its role in coal mining, engineering, and railways. Now, however, Doncaster is home to some of the largest employers in the country including B&Q, DFS Furniture, Amazon, and DB Cargo UK.
Doncaster is also one of the best-connected towns in the UK with direct links to the A1 and the M18. With regards to local amenities, Doncaster is home to a wealth of shopping centres, leisure outlets and the infamous Doncaster racecourse meaning residents will never be short of anything to do.
Recent data from Zoopla has estimated that Doncaster house prices currently sit at £160,043 however residents can expect to pay a lot more, depending on the type of property you desire, with detached houses coming in at approximately £249,268.