Buy-to-Let Property Investment Guide
With any buy-to-let property investment, there will be many questions and areas of the investment that require much consideration. With so many factors to consider, from tax to tenants to finance, it's enough to leave you wondering if a buy-to-let investment is the right choice to make. To ensure you're not leaving any money on the table, our buy-to-let property investment guide will help you to plan, research and begin your first (or next) buy-to-let investment.
Understanding your Property Investment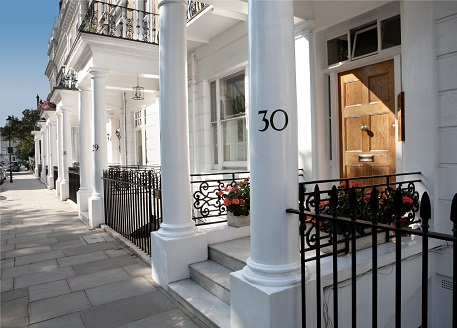 A buy-to-let investment is where a property is purchased for the single reason to be rented out to tenants, rather than lived in yourself. For years this has been a tried and tested way for investors to generate revenue through charging more rent than the monthly mortgage repayments, before making capital gains when selling in the future.
Like all investments, however, buy-to-let does carry risk. Rising interest rates may make mortgage repayments higher than the rent you charge. You may be stuck with difficult tenants who are unable to pay rent. Or when you decide to sell your property, there may not be a buyer. Doing your homework before you invest is vitally important.
Here are ten things you should focus on when investing in buy-to-let property.
Set Your Goals
When starting out it's easy to get carried away thinking about the projected profit, however before you begin your property investment, it's best to know exactly what area of property investment you're going to focus on.
Ideally, you should focus on either rental returns or capital growth. If you're lucky you might get a bit of both, though you'll likely find other investors are making better returns than you are by only going for one or the other.
There's no right or wrong answer to which is best for your situation, it comes down to which is the most financially viable for your situation. The location you're looking for, your budget, your income from other sources all contribute to making this decision.
How to start your search for the perfect Buy-to-Let property investment
Buy-to-let investments are now becoming the favoured choice for those who are looking to make their pensions work harder and Pure Investor have a wide range of UK buy-to-let investment properties to suit all budgets.
What should you consider for your chosen buy-to-let investment?
Location
Local amenities and transport links.
The type of property you want to invest in; off-plan or completed developments?
The type of tenant you would ideally hope for.
Will you buy a property in the city centre or should you look to the outskirts?
Should you buy a property nearby or look further afield for better profits?
How will the property be managed? Should you look after it yourself or use an agency?
Here are some key factors to consider in regards to location:
The crime rate in the area
The demographic within the area
Any key developments that might occur in the near future
The local schools and amenities in the area
The quality of the transport links to and from the area
When it comes to choosing the location of your buy-to-let property investment, you should ask yourself 'Is there a demand for rental properties in the area?' This is essential to becoming a successful buy-to-let investor, and having the ability to spot an over-saturated rental market, as this will mean tough competition with no real possibility of rental increases, therefore making it difficult to make the investment work in the right way.
When considering the aesthetics of your property, you'll want to plan and research the style and type of property, as well as the overall state of the property which depending on its condition may require time and money. This is why research into your property and your role as a buy-to-let landlord is crucial.
Also having an understanding of the potential net rental yields in that area will help to narrow down your search. Your buy-to-let property investment doesn't have to be on your door step, but be aware if you choose a location that is further afield, be sure to take into consideration travel time and costs for dealing with your property and its tenants.
UK Cities That Produced the Best Net Rental Yields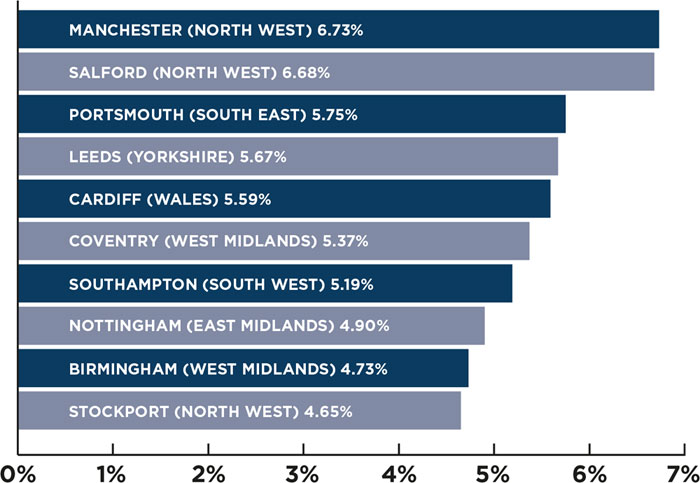 High property prices will likely result in a lower rental yield, so you'll be reliant on a medium to long-term investment in capital growth for you to realise your profits
A location with high property costs will focus on capital growth, a medium to long-term investment, whereas a property that costs less, or ideally undervalued, will return higher yields, but not so much in terms of capital growth.
The most profitable location may not be the one you've got your heart set on. Ultimately this is an investment.
Cast your net wider and look at towns with good commuting links. Then focus on whether you want your tenants to be families, single professionals or students. If you're looking at students look for cities with popular universities, and ideally undersupplied areas for student property.
Who is Your Ideal Tenant?
Once you've completed your financial research you should start looking at your ideal tenant:
If you're looking to profit from yield, should you look at student developments?
If you're looking to profit from capital growth, should you look at medium tenants as opposed to someone who you feel may move on after six or 12 months?
If you're looking for as much of a hands-free investment as possible, should you look at long-term tenants, such as elderly tenants, who are more likely to want stability?
Knowing your ideal tenant makes finding the right investment property so much easier. A lot of the most successful property investors specialise in a single type of investment, for example student, residential buy-to-let, or even a specific location, such as Manchester, Liverpool, Leeds or Birmingham.
By focusing on a single type of investment or location, you know straight away who your tenant is.
Below are a few ways to identify your ideal tenant:
Student Buy-to-Let
According to some, student buy-to-let investments are the best performing property investments.
Purpose-built student properties have become some of the most popular developments, with those in locations with high student populations in demand.
Here are the things you should know if you decide to let to students:
Students are more tolerant and accustomed to living in houses of multiple occupation (HMOs), which can generate higher yields when compared to renting a single property
Student properties are generally cheaper to buy, producing higher rental yields
The influx of overseas students opens new opportunities to students with higher disposable income
Students can pay their rent in advance, which helps with budgeting and forecasting your rental returns
Renting to students isn't all sunshine and roses though. You should be aware that, like all investments, student property carries risks. Here are some of those:
Students only need properties during term time, meaning your investment will likely be unused during summer breaks – something you'll have to factor into your rental yield returns
Students aren't long-term tenants, you'll likely find yourself looking for new tenants each year
Traditional methods of credit-checking tenants may be difficult, with a limited (if any) credit history and no regular income, however using a guarantor will reduce risk
Residential Buy-to-Let
Residential buy-to-let investments are becoming increasingly popular.
UK national statistics show more families are renting, with first-time buyers getting older. This trend creates an opportunity for property investors looking for an alternative to students.
Percentage of Each Age Group That are Home Owners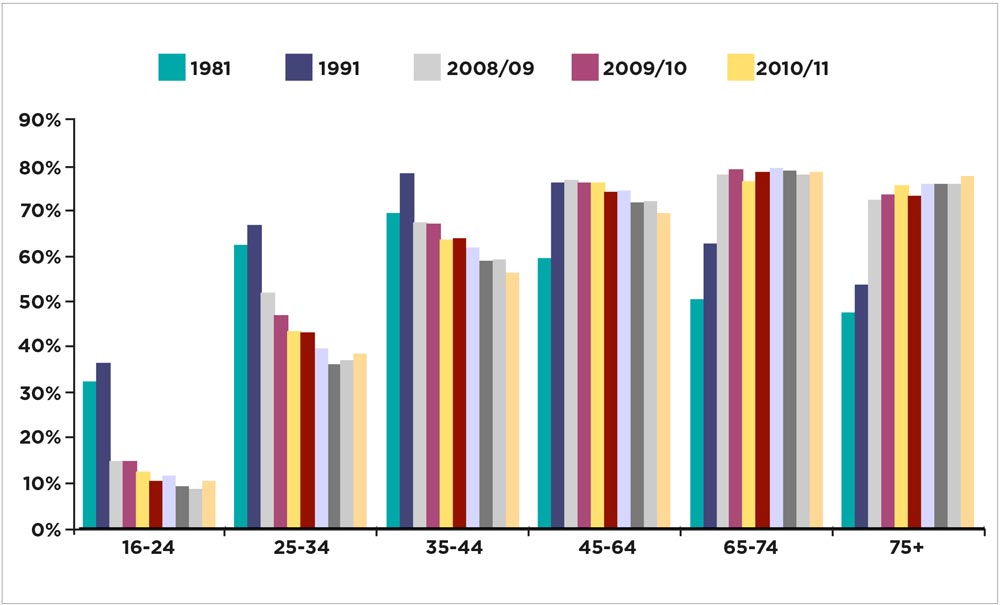 *Source: Office of National Statistics
Understand your property from a tenant POV
Aside from how the property looks, getting a feel for the location is important to understand what is going to appeal to your tenant which will only strengthen your position. Good transport links and local amenities all help to make certain properties stand out from the rest, so ensuring that the property is likely to match the preferences of any potential tenants will enable investors to really maximise its potential.
Tenants now expect more from their rental accommodation so additional costs such as fitting modern bathrooms and luxurious kitchens have to be taken into consideration but remember that it is likely to help return higher yields when it comes to rental prices and capital appreciation.
The below table shows the different types of residential tenants and benchmarks their stability for the likelihood of being in your property for the long-term: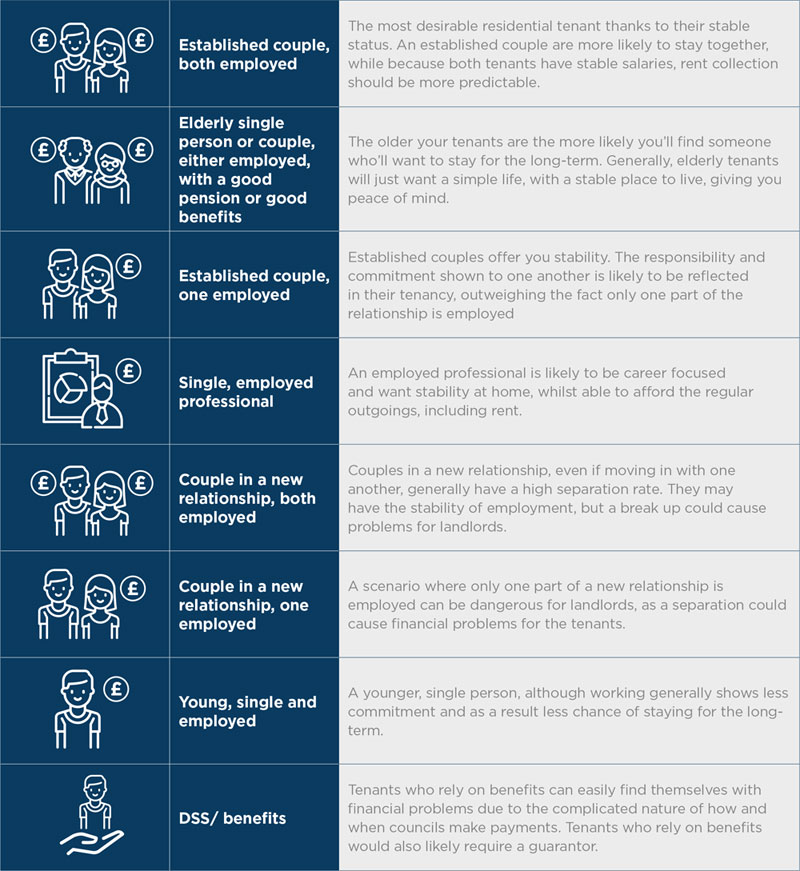 Types of Buy-to-Let Properties
It's also worth considering if you want a new build, off-plan or a renovation:
New Build Developments
Easier to tenant quickly
Will cost more to purchase
Off-Plan Developments
Phased investment with lump sum upon construction completion
Development cost likely to be less than market value as you take on more risk during the construction phase
Renovation Developments
Price can be negotiated hard if a lot of work needs to be done to the development
Can be spruced up to quickly add value
You'll need to budget carefully to make sure the price is low enough to cover refurbishment costs, to give you some profit and the inevitable cost over-run
Get Tax Aware
A string of new taxes for investors in UK property has left a lot of people confused and seeking advice on how to protect assets and income.
Here's an overview of the major tax implications* that you should be aware of:
From June 2019 a ban on letting agents charging fees to tenants will come into force.
Landlords can only claim 25% of their mortgage tax relief when filing their taxes.
Should you own a property that homes five or more people, you will need to apply for a HMO licence.
Newly rented homes or renewed tenancies must achieve a EPC rating of E or above according to new minimum energy efficiency standards.
Tax on Rental Income
The rental returns you receive will be taxed in line with your relevant tax band.
Some costs will be tax deductible, including:
Maintenance
Letting agent fees
Relevant insurance
Council tax and utility bills if appropriate
Since April 2016 you can no longer claim 10% "wear and tear" costs on furnished properties against your tax bill, instead only claiming for actual damage or repair.
More recent legislation will cap the relief on mortgage interest for all landlords at the basic rate of 20%. Investors were previously able to claim mortgage relief of up to 45%. The reduction was introduced in April 2017, to be fully complete by 2020.
Capital Gains Tax
When it comes to selling your property, you are not exempt from capital gains tax.
Any profit you make on the capital value of your property investment will be liable to either 18% or 28% tax depending upon your tax bracket
Current legislation gives you the first £11,100 profit free of capital gains tax, going up to £22,200 for couples with joint assets
Stamp duty can also be offset against capital gains tax
Current legislation gives you 18 months to pay any capital gains tax, however from 2019 this will need to be paid within a month of any sale completing
Stamp Duty
Since 1st April 2016 landlords have been hit by an extra 3% tax for any properties owned in addition to the main residence.
This applies to:
All investment properties costing over £40,000, compared to the previous £125,000 threshold, with the exception of purpose-built student developments where stamp duty will only liable for sales over £150,000
The 3% stamp duty is also charged on the entire property price
Tax for Non-UK Residents
Assuming an investor is based in the UK, there is a standard deduction (taken at source) of 20% tax from the UK tax authorities (HMRC) on the rental income.
However, for Non UK Resident Investors, an exception can be applied for through HMRC, which is called The Non Resident Landlord Scheme (NRLS). Obtaining NRLS status enables you to receive the rental income without tax being taken at source.
However, this does not mean that you are not liable to UK income tax and just as important, it does not mean that you do not have to file an annual UK tax return, you do. If you require further information on this subject, we can introduce you to experienced tax specialists. Part of our service would be to assist you through the whole process.
*Please note we're not tax advisors. This is simply an overview of the UK tax market only. You should still speak with a property tax professional before making any investment.
Know Your Responsibilities
Any buy-to-let investment comes with responsibilities. You'll have a legal responsibility to your tenant, making sure the deposit is safe and rights to live in your property are protected by an Assured Shorthold Tenancy (AST).
An AST gives tenants a legal right to live in your property for a fixed period of time, usually six or 12 months, or offers a flexible rolling term.
An AST outlines:
How much rent the tenant should pay
When rent should be paid
Who is responsible for repairs
The circumstances that can bring about a notice of eviction
The circumstances rent can be increased
How long the tenancy lasts
Protecting a tenant's deposit is another responsibility. Deposit protection schemes are a legal requirement that will result in you or your letting agent being fined if you don't supply one.
There are two types of government-backed deposit protection schemes:
Insurance Deposit Protection Schemes
Landlord or agent retain the deposit and pays interest to the insurer
These are available through the Deposit Protection Scheme, MyDeposits and Tenancy Deposit Scheme
Custodial Deposit Protection Schemes
Deposit is paid into the scheme you choose, earning interest
Free to use
Each scheme comes with an independent resolution service if any disagreements arise at the end of the tenancy.
Other landlord responsibilities include:
Making the property safe for tenants to live in
Dealing with repairs to the property's structure and exterior
Making sure heating and water systems are in working order
Using furniture that meets fire safety regulations
Carrying out gas and electric safety checks
Financial Research for Your Investment
Ask yourself, is your investment financially viable?
From your finances to the tenants you ideally want all the way through to your exit strategy, your early research makes your potential profits more likely and as predictable as possible.
Here are some of the financial questions that can help shape your research:
Can you afford to buy the type of property you want in the area you've chosen
Are the average rents in the area you've chosen high enough to give you the yields you need to make a profit?
What's the competition and demand like in the area? Especially important for student properties which in some cities can be oversupplied
Know the Pitfalls
The right preparation will help you know the pitfalls of property investment.
Like all investments there's always the possibility of risk. There's time, financial and legal commitments that need to be tightly managed. If you're not in a position to give your resources to all three areas, property investment is unlikely to be right for you.
Some of the pitfalls you will want to consider are below:
How Interest Rates Affect Property Investment
Low base rates and falling bank rates make mortgages much more affordable. Once bank rates start to increase though, mortgage payments will rise also. Even a small increase will make mortgages less affordable.
Risking your capital too much can lead to higher costs eating into your yields (at best) or repossession (at worst).
If you feel you're stretching yourself too much it'll be wise to re-evaluate your investment strategy and either look at lower price alternatives or spend more time building up your capital.
Rising interest rates do give you opportunities though. Mortgage payments increase on residential mortgages as well as buy-to-let. A lot of home owners, or potential home owners, will be put off buying properties and will instead choose to rent.
How Repairs or Vacancy Periods Affect Property Investment
Stretching yourself too much will put you in difficult positions if your property is in need of repair or goes through a period of being vacant (it will happen at some point).
You might be lucky. If you've chosen a good location and an in-demand property, you could find yourself with a new tenant in just a few days. If not, you could find yourself spending time putting things right or repairing damages after a tenant leaves, costing you time and eating into your profits.
Not to mention the fact that you're not receiving any rent.
Here are some things you should do when you find yourself with a vacant property:
Contact your local authority to take advantage of council tax exemption for up to six months
Transfer the utility bills to your name, making sure you provide closing meter readings
Take the opportunity to fix what's broken, needs to be repaired and update any furniture or white goods to meet any new regulations
Turn off all electricity, gas and water to save any unexpected bills
Leave the heating on a timer over winter to make sure any viewings are comfortable and not faced with a cold property
Empty the bins to avoid any smells and make your property pleasant for when your new tenants move in
Decide How Hands-on You Want to Be
Congratulations!
You've purchased your buy-to-let property. Once the sale has gone through you'll want to start recouping some of your investment in rent. It's now time to decide how hands-on you want to be. Should you use an agent, and in which case how do you choose one?
Here are some of the pros and cons you should consider when making this decision:
Pros of a Hands-on Property Investment
Save between 8% to 10% of rental income by not paying fees
You can personally vet your prospective tenants
You have more control of the issues faced by your tenants, find it easier to use your own suppliers and have more flexibility to carry out viewings outside of working hours
Cons of a Hands-on Property Investment
You can expect to spend a lot of time carrying out viewings when your property is vacant
You will be responsible for carrying out credit checks, the legal paperwork and protecting deposits
You are responsible for any rental negotiations
Pros of a Hands-off Property Investment
Any agent that you use, or is already in place if you're investing in a new build development, will oversee all viewings, legal paperwork and in most cases, protect the tenancy deposit
Using agents will free up your time, with less pressure on you to carry out viewings during evenings and weekends
If you live in a different location to your property investment you have a contact in the local area to deal with any tenant queries with a network of preferred suppliers, such as electricians or gas engineers.
Cons of a Hands-off Property Investment
You will place a lot of faith in a management agency, so making sure you choose the right partner is vital
An agency is likely to charge additional fees for any service not specified in the standard management contract, including administration and arrangement fees for using a network of preferred suppliers
Your agency will not have the same motivations to get your property rented as you will, which may leave you with a vacant property for longer
How to Choose a Good Property Management Agency
Choose an agency with a strong track-record
Choose an agency that focuses on your ideal tenant or location, for example use a good student management agency for your student property investment or an agency based in the local area
Interview and meet with a few agencies to help you get a gut feeling about who will operate in your best interests
Check if the agency is a member of a regulatory or best practice body, or if required, make sure the agency has the correct licence to trade
Get your own solicitor to check the management contract and make sure certain service level agreements are in place to protect the service you get
Have an Exit Strategy
Exit strategies are the most avoided, and for a lot of investors, the most confusing part of property investment.
Simply put, your exit strategy is your way of making the big profits, so how do you get the big profits from your property portfolio?
Here are just some of the ways you can plan to increase your profits:
Decide early if you will look to restructure your properties by selling some to invest in others
Know how many properties you want to own, if you want to manage them or if you want to use an agent
Will your properties contribute towards your retirement? In which case will you look to clear the mortgages on each and reap the rewards of your rental payments? Or look to sell once the property value increases enough to reach a profit that you're happy with?
You could have any number of reasons to want to exit. You could be turning your attention towards retirement. You could be restructuring your portfolio. Or you could be looking to free up some of your capital to invest elsewhere.
Your exit strategy will depend upon your personal situation and the tax consequences that come with your decision.
Here are some of the most common property investment exit strategies:
Hold Your Property Portfolio Forever
There's a common view that you can't get mortgages once you pass 60 years old. This is true for residential mortgages, it's unlikely you'll work long enough to pay your mortgage off each month.
For buy-to-let mortgages however, you can get loans that can be repaid until you are more than 100 years old. This could make inheritance tax more complicated, leaving your heirs scrambling around to refinance or sell your remaining properties. However, there are options to protect your investment.
One way to protect your property portfolio is to transfer ownership, or purchase your property, through a limited liability company. If there is another director with enough income to personally guarantee any outstanding finance ownership will stay within the business.
There is of course risk. If your circumstances change once you're retired you could be relying on interest rates to keep your income favourable.
Sell Some of Your Property Portfolio
One popular exit strategy is to sell some of your property portfolio to pay off your outstanding mortgages on your others. This leaves your remaining portfolio with no outstanding finance.
In theory, this exit strategy leaves you with a bulletproof source of income. Rent and income both generally rise with inflation and your capital values become a secondary thought. Your main income becomes rent received. And unless your circumstances change, you'll keep hold of your remaining properties.
You'll have capital gains tax to consider once you start selling your properties, however phasing your sales over several years can reduce your tax bill and reduce your liabilities. The biggest risk with this strategy comes if you don't have enough rental income from your remaining properties. If you have periods of no rent coming in your savings will have to keep you afloat.
Sell Your Whole Property Portfolio
You could decide to move away from being an active property investor completely.
There are other more tax efficient choices, although if capital gains tax isn't a worry then selling your property portfolio will give you the opportunity to free up your capital, move away from your responsibilities as a Landlord and give you peace of mind that your finances are secure, without the worry of possible volatile interest rates.
Restructure Your Property Portfolio
This is the most popular exit strategy.
A combination of the other options, restructuring your property portfolio gives you the opportunity to free up the capital in your property investments to diversify and restructure.
Here's an example of how to restructure your portfolio:
Sell some properties to raise capital for another investment, either property or stocks and shares
Sell some properties to reduce your loan-to-value or increase the amount of equity you have available
Keep a core selection of properties that give you high rental yields to reduce your worry over changing interest rates
Property investors used to focus on capital growth as a way of making big profits. Now rental yields are what gives you the regular income. As investors, your exit strategy revolves completely around your ability to stay emotionally neutral to your property. Bricks and mortar are an investment only.
If your property has stopped making you money, then your investment is no longer useful. Only keep the properties that give you good yields, have potential for high capital growth and are easy to rent when you are faced with vacant periods.
For more information on our buy-to-let property investment service or if you need assistance in making the right investment decision, contact Pure Investor today.