4 Great Moor Street – New Student Property Investment in Bolton
Published: 14th October 2015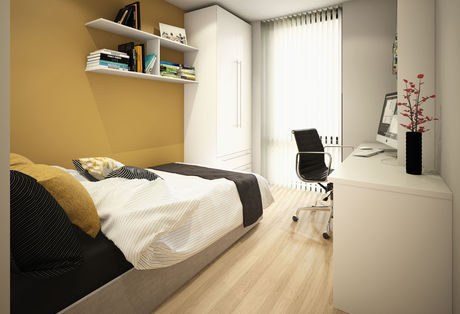 Home to one of the UK's fastest growing universities, Bolton is today one of the most popular destinations for investors looking to purchase a student property for investment. The stunning new 4 Great Moor Street development looks set to cater for the increasing demand for high quality student accommodation in Bolton and the surrounding areas.
The new 4 Great Moor Street project will contain a total of 140 high quality student units (119 en-suites and 21 studios), each offering investors an assured 9% net rental income. Alongside the range of affordable luxury accommodation, the 4 Great Moor Street development will also offer students a wide range of communal facilities including bicycle storage, and a large social and games room.
4 Great Moor Street is situated at a short distance from Bolton's new transport interchange. This provides students with quick and easy access to both busses and trains, enabling them to travel within the city or to others. Students travelling to Bolton University will only have an 8-minute walk from the accommodation.
4 Great Moor Street - Investment Highlights
140 units.
9% net rental income for 5 years.
Free legal fees.
Furnished bedrooms and fully fitted kitchens.
Communal facilities.
8-minute walk to Bolton University.
5-minute walk to Bolton's transport interchange and city centre.
If you are looking to invest in a student property in Bolton, why not contact us today to receive your free online information pack or merely email our consultants on enquiries@pureinvestor.co.uk to find out more information about 4 Great Moor Street, Bolton project.