Discovery Quay - New Student Property Investment In Manchester
Published: 21st January 2016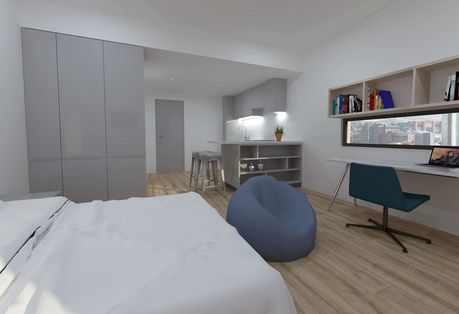 A development of almost 300 large, high specification student units, Discovery Quay is the first new student property investment to be launched in Manchester city centre for almost two years. As such, demand for this type of luxury student is now at a premium in a city which is home to in excess of 100,000 full time students across three leading universities.
Key to the appeal of Discovery Quay will be its located within the Salford Quays district of the city. Home to a number of leading international companies including the BBC and ITV, the project will be the first student development to be situated within the new Salford Quays/Mediacity district.
Discovery Quay, Manchester - Investment Highlights
Superb location just a few minutes from both Manchester city center
Walking distance to new MediacityUK master development
Recent planning restrictions resulting in build up of demand
Leading development and management company in place
Large, high specification units starting at 22sqm.
250 year leasehold
Investor friendly payment plan
Units at the new Discovery Quay Manchester development will start from just £88,143 for the 22sqm student studios, and completion is due for September 2018 in time for the annual academic intake across the University of Manchester, Manchester Metropolitan University and Salford University.
Discovery Quay, Manchester - Reservation and Payment Plan
£5,000.00 reservation fee per unit
Special limited payment plan of 30/30/30/10 with 6 month stage payments
If you are currently considering investing in a new student property in Manchester, why not contact us today for your free online information pack, including the very latest prices and availability direct from the developers.