Danforth Apartments | New Residential Apartments In Manchester
Published: 21st December 2016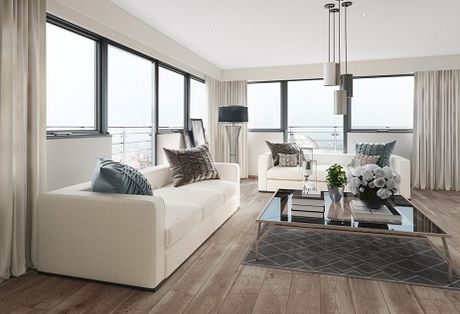 Danforth Apartments is the second phase of a five-phase development scheme in Salford Quays, which will be known as Fortis Quay. The development will comprise of a staggering 113 luxurious apartments, providing residence with a superior modern living experience. Each apartment will feature stunning fitted kitchens and modern fixtures and fittings, meaning Danforth Apartments have been created and designed to the highest standard.
The location of Danforth Apartments allows residence to benefit from an array of connectivity links in and around Salford Quays. With Salford Quays being a vibrant business centre, residence can easily gain access to the renowned MediaCityUK, which takes home world famous media corporates such as the BBC and ITV. The area is becoming a more renowned and successful location with many large-scale developments currently underway which is rising the housing standards.
Fortis Quay is made up of five desirable residential developments named; Herreshoff Apartments, Danforth Apartments, Northill Apartments, Grapnel Apartments and Rocna Apartments. The name of the development has come from an anchor name in honour of the waterways of Salford Qauys. All developments will have easy access to MediaCityUK and the city centre which is a mere 10-minute journey, meaning Fortis Quay offers residence the best of quayside living.
If you would like more information on Danforth Apartments and the Fortis Quay development, email enquiries@pureinvestor.co.uk to receive an online information pack. Or if you would like to speak to a member of our consults' team call 0161 337 3890.