Sheffield Property Investment Hotspots
---
Sheffield City Centre
City Centres are usually a hotspot for property investment, from studio flats to terraced houses and with so many people working and living in and around Sheffield, there will always be someone looking to purchase their next property within the city.
The S1 postcode, which is featured on the Totally Money's Buy To Let Yield map could present an interesting opportunity for property investors, especially as the location on average can yield up to 8% on rental returns.
It's no secret that residential property in Sheffield is very affordable and data from the HM Land Registry, showed that average sale prices of properties in the S1 area came in at around £126,917, just under £10,000 less than the average sale property price of Liverpool's popular L2 postcode.
Another notable area of S1 is the ever-popular St. Paul's Square which draws in many individuals looking to enjoy a livelier city atmosphere, especially after its redevelopment which gave the entire area a much-needed face lift.
St. Paul's is also in a perfect location for potential tenants who would rather walk and enjoy the city in all its glory than use public transport. You'll find many students and young professionals enjoying this area as it's just a short walk to Sheffield Station, taking travellers straight to Manchester or London.
Fulwood
If you would prefer an investment with a bit more reliability, Fulwood is popular among families who are looking for an area that can provide them with plenty of green spaces away from the hustle and bustle of the city centre.
Fulwood is also popular for the balance it provides its residents, it still has plenty of bars, cafes, and pubs for people to enjoy but is also home to excellent schools, which many families will be putting high in their location priority list.
The area is just a short 3 mile drive from the city and so it's perfect for those who still wish to commute into Sheffield but would be happier living just outside of the centre.
According to RightMove, Fulwood had an overall average property price of £450,476 over the last year. Due to the nature of the area, many of these properties were semi-detached and detached properties. The average price for flats sold in the area came in at around £214,406.
This data also shows that overall property prices were up 21% from the previous year.
Dore
Despite originally being a part of Derbyshire, Dore has become infamous for being one of Sheffield's most beautiful and historically affluent suburbs making it highly attractive to investors and residents alike.
Despite its small-town feel, Dore offer residents access to a myriad of facilities suitable for all ages and interests. However, its excellent transport links also make it easy to travel to other nearby cities if you prefer the excitement and amenities that only the city centre can provide.
The area itself is around 6 miles west of Sheffield city centre and a mere 15 minutes from central Sheffield making it ideal for those looking to commute and work in the city but would be happier away from the stress often associated with city centre living.
Despite being a popular area real estate prices have often kept Sheffield residents away from Dore. According to data from Zoopla, the average property value has increased by 9.21% to £558,023 over the last year. Opposed to the city centre, the most abundant property type in Dore is detached properties which currently have an average value of £617,048.
Crookes
For those looking for a vibrant, up and coming location, look no further than Crookes. This traditionally tranquil location has established the perfect balance combining all the best features of a traditional suburb and the bustling city centre.
Situated close to the University of Sheffield, Crookes has a large student population meaning that residents have access to a variety of clubs, bars and, restaurants all of which help make Crookes livelier and more vibrant than the majority of Sheffield's surrounding areas.
Additionally, Crookes is only a 20-minute walk to Sheffield city centre making it ideal for all types of people including families, young professionals, and students.
Over the last 12 months Crookes has experienced steady house price growth and now has some of the most reasonable averages of all the surrounding towns. According to recent house price data from Zoopla, the average house price value currently sits at £199,046.
Broomhill
Located on the border of Crookes, Broomhill offers many of the same amenities and facilities meaning that the majority of people often make the switch from Broomhill to Crookes.
Despite being similar areas, Broomhill has its own, unique collection of facilities including a range of different eateries, supermarkets, fashion outlets and pubs making it ideal for a range of different residents including students and young professionals.
Sales data from Rightmove indicates that Broomhill had an average house price of £279,457 with the most popular house type being flats which came in just below the average, selling for roughly £216,265.
Upperthorpe
Upperthorpe is the ideal location for those looking for a vibrant location without a large student population and is the perfect alternative to Crookes and Broomhill. Whilst the area does still have a sizable student population, Upperthorpe is most popular among families and younger couples.
Located just down the hill from Crookesmoor and adjacent to the Ponderosa Park, Upperthorpe has received an uptake in house price growth over the last 12 months. Despite this increase, house prices remain lower than those in Crookesmoor with the current average price paid estimated to be £158,500 according to data from Zoopla.
Ecclesall Road
Ecclesall Road is rich with a wide variety of different amenities including pubs and cocktail bars synonymous with the large student population. Alternatively, The Botanical Gardens and Endcliffe Park are located just nearby which both offer vibrant natural spaces ideal for families.
The Ecclesall Road community has convenience at its core and offers residents everything they could possibly desire in terms of local amenities making this the ideal place to settle down.
With regards to house prices, over the last 12 months, Ecclesall Road has experienced an average 8.79% increase, with the current average house value estimated at £259,532. Although in previous years flats were the most popular property type, it seems in 2021 and the last 12 months, terraced houses have had double the sales of flats. You can expect to purchase a terraced house on Ecclesall Road, at an average price of £214,000. (Zoopla)
S2 Postcode Area
The S2 postcode area is home to a wide variety of different, popular suburbs such as Highfield, the Arbourthorne Estate, Park Hill and more and, as such, has a wide appeal to students, young professionals and, more importantly, families.
The area itself falls just outside of Sheffield city centre and has little to no significant attractions or amenities. Instead, it is home to a wealth of primary schools, supermarkets, and college academies making this area most popular amongst families looking for a long-term residence.
Over recent years Sheffield, and the S2 postcode area specifically, has grown drastically in popularity and now offers some of the highest rental yields in the country. Over the last year, the S2 postcode has received rental growth unlike any other with an average yield of 8% on buy to let properties.
House prices have also seen strong growth over the last 12 months with an estimated 4.98% growth taking current averages up to an estimated £136,088 according to data from Zoopla.
Sheffield's Surrounding Towns
---
Part of the wider Sheffield City Region Local Enterprise, Rotherham has been the subject of significant investment in recent years from a series of large, local employers, such as Rolls Royce. It is this investment that makes Rotherham such a popular area amongst buy to let investors.
Residents of Rotherham will benefit from its range of amenities as well as the wealth of jobs on offer which has facilitated the increase in demand for rental accommodation over the last few years.
With regards to individual house prices in the area, Rotherham has been the subject of steady rental growth year on year, with house prices growing by an estimated 6.23% over the last 12 months leading to a current average house price value of £159,906.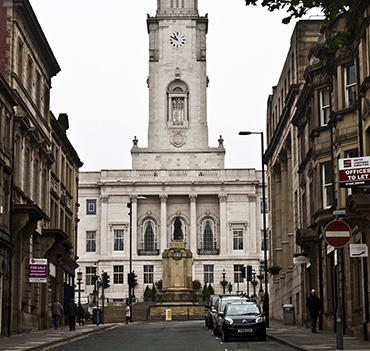 Similar to Rotherham, Barnsley is an area that has been, and still is, benefitting from large amount of regeneration finance and investment over recent years with many projects - such as the Barnsley Interchange Transport Hub - already completed.
The area itself is mainly dominated by students with 13% of the local population falling into that category. This means that Barnsley will have a host of local amenities on offer as well as excellent transport links, in and out of the city, to major areas such as Sheffield and Leeds.
According to data from Zoopla, house prices in Barnsley have experienced steady and consistent house price growth over the last few years with current average house prices now an estimated £148,706 - up 5.79% from the previous year.
Doncaster
Doncaster is an area driven by industry and has become famous, historically, for its role in coal mining, engineering, and railways. Now, however, Doncaster is home to some of the largest employers in the country including B&Q, DFS Furniture, Amazon, and DB Cargo UK.
Doncaster is also one of the best-connected towns in the UK with direct links to the A1 and the M18. With regards to local amenities, Doncaster is home to a wealth of shopping centres, leisure outlets and the infamous Doncaster racecourse meaning residents will never be short of anything to do.
Recent data from Zoopla has estimated that Doncaster house prices currently sit at £160,043 however residents can expect to pay a lot more, depending on the type of property you desire, with detached houses coming in at approximately £249,268.