Veranda – interview with Mahmoud Saleh Hamdy (Sales Director of Red Sea Resorts)
Published: 2nd December 2011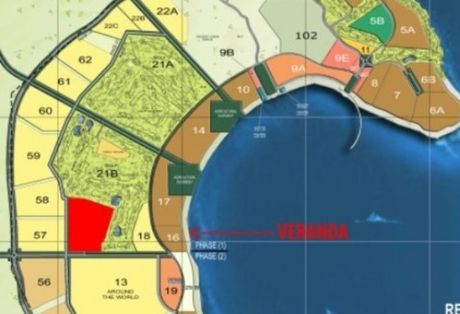 Veranda in The Sahl Hasheesh is the latest development to confirm the first phase delivery of apartments to their off plan clients. If you are considering purchasing property in The Sahl Hasheesh and looking for off plan opportunities for either lifestyle or investment, it is often advisable to purchase at the pre-launch stage. Buying off-plan at the earliest phases of planning and construction. Usually at this 'early-bird' stage you can secure the best available units at the lowest price.
Historically, you would witness increases in the price as you near to completion, traditionally presenting an opportunity of securing a short term profit. Some investors would crystallise their assets by re-selling or 'flipping' their investment prior to the completion of the development. More serious investors having immediate equity will take a medium to long term investment view by holding onto their latest off plan addition and increase their overseas property portfolio, usually renting for either short summer holidays lettings or long term tenants.
Having said this; 2011 has witnessed some developers falling into either financial difficulties or have had land issues which have proven to delay the start of the build and in some instances find themselves bankrupt.
What we have seen with Veranda in The Sahl Hasheesh is the opposite. We recently had an interview with Mahmoud Saleh Hamdy (Sales Director of Red Sea Resorts) who confirmed all the land where Veranda is being developed is owned and being developed by Red Sea Resorts. Many investor and lifestyle clients who purchased off plan on the Veranda will take delivery of their units in the spring of 2012. There is also still some great off plan opportunities, with a completion promise of 12 months from the signing of contract.
This is a great opportunity as we have not only off plan prices but also the guaranteed delivery and confidence of the completion.
Why Veranda
• Veranda is surrounded by an international 18 hole golf course
• You can enjoy beautiful views of sea as well as being next to the neighbouring golf course
• Lush landscape is interspersed within swimming pools and lagoons 24hr security
• Veranda is built in accordance to British building standards
• Public areas in Veranda are in handicapped compliance
• Units in Veranda are delivered with A/C as well as phone set, internet connection and access to satellite TV central facility
• All units in Veranda have access to covered terraces
• In Veranda with all second floor units, you can enjoy your own private roof with pergola, flooring and barbeque in place. Delivered with the unit
• In Veranda with a number of premium ground floor units, you have your own private pool within a lagoon at the hub of the development
• In Veranda, all electro-mechanical materials are amongst the highest international brands
• Pool Ceramics imported from Germany (Brand: Buchtal)
• Swimming pool equipment imported from U.S.A (Brand: Pentair)
• Switches and sockets imported from France (Brand: Le Grand)
• In Veranda, you get fully fitted kitchens with the highest and most durable cabinets installed as well as luxurious bathrooms
• All paints used in Veranda are against ultraviolet sun rays to preserve our buildings
• In Veranda, they have pools for every zone in addition to the main pool
Veranda is also sensibly priced for The Sahl Hasheesh.
About Veranda
Veranda is a stunning holiday resort on the coast of Sahl Hasheesh in the Red Sea with outstanding natural beauty that you can enjoy from the privacy of your own home by choosing either a spectacular villa or a studio or perhaps one or two bedroom apartment.
Imagine having breakfast on your veranda overlooking lush exotic landscaping and a neighbouring 18 hole golf course, while your children enjoy the plunge pools with cascading waterfalls creating for you the perfect holiday destination.
Veranda offers you and your family an exquisite holiday destination with a club house, health spa, lagoons, hub of restaurants, shopping mall, sports courts and theatre.
The resort site measures approximately 130,000 m2 comprising circa 725 units, located in the core of Sahl Hasheesh development, with differing spectacular views of the Golf Course from the northern and eastern side of the Resort.
The basic topographic nature of the site is very distinct; it is divided into four smoothly stepped levels, approximately one floor level apart, giving the opportunity to most site areas to see the crystal turquoise waters and the beautiful green colour of the golf course surrounding the area.
All of this awaits you in the serene and beautiful heaven Veranda.