Trinity Church, Bolton - New Student Property For Sale In Bolton
Published: 11th June 2013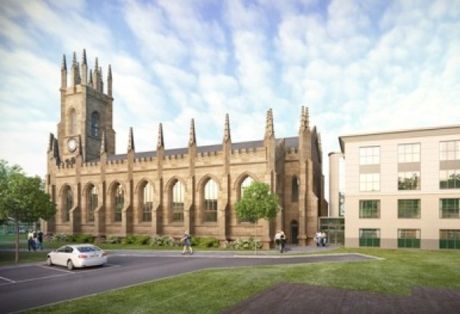 A historic, Grade 2 listed building, Trinity Church is a new three storey development in Bolton. This restoration project, which is due to be completed in time for the student intake in September 2014 will offer investors a selection of 42 studio flats, all within easy walking distance of the University of Bolton.
Alongside the Trinity Church building, on Crook Street, will be a second building called The Lodge. This four storey building will be home to a further 40 student apartments, all of which will be finished to the highest standard throughout.
All units in the Trinity Church development will include fully fitted kitchens, flat screen TV's, Broadband, door entry systems and boutique ensuite shower rooms. The Trinity Church development will be developed by one of the regions leading student property developers, who come with an excellent track record in the local area.
The University of Bolton is now home to over 13,000 students, and as such demand for student accommodation in Bolton has risen considerably over the past few years in keeping with the growth in student numbers.