The Grove Resort and Spa a stunning development in Orlando, Florida.
Published: 5th August 2016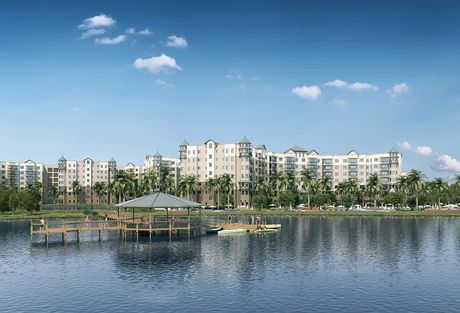 The Grove Resort and Spa is one of the finest resorts around for a holiday accommodation. It is such an exciting prospect which is made up 872 units with 187 of them being released in phase one. The stunning 106-acre vacation home resort is set to open in January 2017.
The Grove Resort and Spa is perfect for somebody who wants it for a holiday home but also very much a good opportunity for someone who is looking to invest as it offers 10% assured rental returns for 2 years.
Investment Highlights
10% returns assured for 2 years
Fully furnished units
Resounding location
110-acre site made up of 878 stunning units
5 minutes from hugely popular Walt Disney World
Over 66 million tourists per year
The location is perfect for tourists as it is located just 5 minutes away from the worldwide popular Walt Disney World with many parks to visit. It is also only a short distance from to major shopping, dining and entertainment venues. For people who are looking to travel around Orlando to see other resounding attractions such as Hollywood Studios, Busch Gardens, Gatorland, many shopping malls, several mini golf courses, waterparks and many more they can commute through the use of easy access to major interchanges and highways. This is perfect for the travelling tourist who is looking to explore the whole area. Similarly, the resort has everything a person could desire on site to the point they would not even need to leave it.
On site amenities
• Two Pool Areas
- The Springs resort pools offer a relaxing, lakefront atmosphere with poolside food and beverage service
- Surfari Water Park offers a zero-entry resort pool with lush landscaping, surf simulator, lazy river, children's pool and play structure and food service from Longboard Bar & Grill, and more.
• Lake dock with canoeing, kayaking and electric motor boat rental
• Valencia restaurant - serving breakfast, lunch and dinner
• The Springs Bar & Grill - serving traditional fare and stone brick oven pizzas
• Zest Lounge
• Pickings Market & Convenience Store
• Escape Spa and fitness centre
• 300-person capacity meeting and event spaces, including both indoor and outdoor areas
• Arcade and game room
• Children's activity centre
• 24-hour manned and gated security
• 24-hour lobby services and daily housekeeping
• Concierge services available
• Covered parking
• 106-acre nature preserve with 20-acre natural lake
If you are interested in The Grove Resort and Spa and would like to receive a free information pack, contact us on enquiries@pureinvestor.co.uk. Or call 0161 337 3890 to talk to a member of our consultant's team.