Robert Owen House, Bath Street, Glasgow - New Student Property In Glasgow
Published: 4th April 2014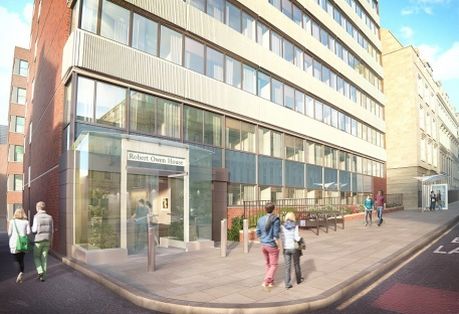 Robert Owen House is a new student property investment, perfectly situated on Bath Street, Glasgow. The development, which is due for completion in May 2015, will comprise of 101 luxury studio's as well as a wide range of communal facilities including a fully equipped gymnasium, laundry, high specification entertainment lounge and a secure bike storage unit.
The student units will come in three investment levels, including standard, deluxe and premium student studios. All studio's will come as ensuite, and will be finished to the very highest standard.
Robert Owen House, Glasgow - Investment Highlights
9.16% net minimum guaranteed for first two years
Free tuition fees in Scotland mean high demand for student properties in Glasgow
62,000 full time students in Glasgow
Developer with proven track record of delivery and management
Exceptional, high profile location close to 3 main universities
Bath Street, Glasgow - Location
The location of the new Robert Owen House, on Bath Street is sure to appeal to investors, due to the projects close proximity to all three of Glasgow's main universities (University of Glasgow, Strathclyde University and Glasgow Caledonian University). All three campuses are within easy walking distance of Robert Owen House, and Glasgow's main shopping district is within 100 metres of the building.
The Bath Street Glasgow student development will be fully managed by this experienced developer, who we have already worked with on a number of excellent student investment properties in Glasgow, Middlesborough and Bolton.
For investors, the Bath Street development will offer a generous return of 9.16% net minimum guaranteed for the first two years. All units within Robert Owen House are also being sold on a freehold basis.
For more information on the Bath Street Glasgow development, why not contact us today on enquiries@pureinvestor.co.uk for your free online information pack?