New Student Accommodation Investment Launched - Sovereign House, Sheffield
Published: 30th July 2014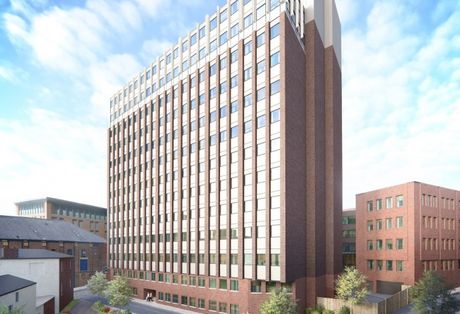 Perfectly situated approximately 8 minutes walk from both the University of Sheffield and Sheffield Hallam University, the new Sovereign House development looks set to become the benchmark for student accommodation in Sheffield. Developed by one of the sector's most established and reputable companies, Sovereign House looks set to become one of this years most popular student accommodation investments.
Sovereign House is a refurbishment development comprising of two large office blocks in the heart of Sheffield city centre. Minutes from the two universities, the development also offers quick and easy access to all the shops, bars and cafes throughout the city centre shopping and commercial districts. Development of Sovereign House is due for completion in September 2015 in time for the years annual academic intake.
For investors, Sovereign House Sheffield will offer a range of studios starting from as little as £59,995 and going up to £74,995 for the luxury one bedroom apartments. For investors, the developers are offering a generous 8.72% net rental return over the first two years.
Developer Track Record
We have worked closely with this developer and management company for a number of years, and we have been consistently impressed with their delivery and service for both students and investors alike. To date, we have visited nearly all of their completed and operational projects, in destinations including Glasgow, Nottingham, Sunderland and Middlesborough. They consistently deliver an excellent standard of finishing throughout their projects, and occupancy rates are consistently high with many projects running substantial waiting lists. In recent years, a large number of our clients have invested in their projects, and to date have been fully satisfied with rental incomes received and service levels overall.
Why Student Accommodation Investment In Sheffield?
Established as one of the UK's leading university towns, Sheffield is a popular destination for students from both the UK and overseas. With in excess of 63,000 full time students, the city centre is home to both the University of Sheffield (Russell Group), Sheffield Hallam University and a leading business school.
It is widely acknowledged that at present there is a major structural undersupply of student accommodation in Sheffield, with the two universities currently able to offer just under 11,000 student beds. Understandably, this has created a large demand for student property in Sheffield city centre, and in recent years the city has witnessed weekly student rents rising by an average of 3-5% year or year.
At present, the two universities in Sheffield experience an average of 6 applications per space, ensuring the demand for student property in Sheffield is likely to remain strong for the foreseeable future.
If you would like to find out more about the new Sovereign House Sheffield development, why not contact us today for your free online information pack on enquiries@pureinvestor.co.uk.