New Launch - Burgess House Student Investment Property In Newcastle
Published: 30th April 2014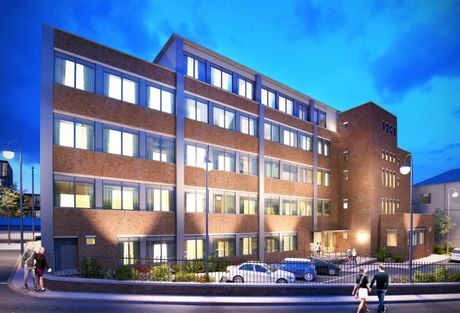 We are pleased to announce the launch of our second student investment property in Newcastle, Burgess House. Comprising of 110 premium and deluxe student studios, Burgess House will cover a total of five floors and will include a range of communal facilities including a fully equipped gymnasium, secure bicycle storage, laundry facilities and high specification entertainment lounge. Designed to cater for the more discerning students, Burgess House looks set to become the beanchmark for luxury student property in Newcastle.
The development will be developed by one of our leading partner developers, who we have now worked with for a number of years throughout numerous successful projects in England and Scotland. They have an excellent track record of development delivery and student facility management, with all projects being finished to the very highest standards throughout. We have already visited a number of their completed and operational student developments, and have been consistently impressed with the overall facility and services on offer for students on site.
The development is perfectly located in the very heart of Newcastle city centre, in short walking distance from main shopping and entertainment districts (0.3 miles). The University of Newcastle (0.9 miles) and the University of Northumbria (1.1 miles) are both also within easy walking distance of the Burgess House student development. The Burgess House Newcastle development is due for completion in June 2015.
So why should you consider investing in a student property in Newcastle?
At present, there is a significant structural undersupply of purpose built student property in Newcastle and the surrounding suburbs, with over 50,000 full time students and only 8,351 purpose built student beds. Indeed Knight Frank, in their 2014 Student Property Report highlighted Newcastle as being one of the areas in the UK where structural undersupply of student accommodation was most pronounced. With both the main universities seeing increases in applications of approximately 12% last year, the demand for student accommodation in Newcastle looks set to continue for the foreseeable future.
As well as the undersupply of purpose built student property in Newcastle, there is also increasing pressure on the more traditional HMO (House of Multiple Occupancy) model in the city. The most recent Savill's Student Spotlight named Newcastle as one of the worst cities for students occupying HMO's, and claimed that in excess of 3,000 homes currently occupied by students could well be unlocked to cater for increasing demand for family properties in the area, resulting in approximately £3.2 million additional council tax revenue per annum.
If you are looking to purchase a student investment property in Newcastle, and would like to see more information on the new Burgess House development, please feel free to contact us today for your free online information pack and latest availability and prices.