Kingfisher Court | Resale Units 212, 223 & 224 | Huddersfield
Published: 23rd August 2018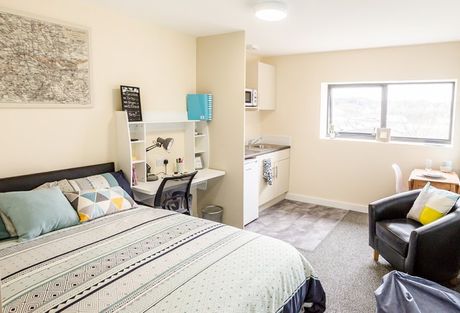 Kingfisher Court is a completed purpose-built student accommodation located in central Huddersfield. The ten-storey development comprises of 252 excellent self-contained studio apartments with an en-suite shower room and a kitchenette.
Student residence will also benefit from a range of excellent communal facilities including; IT Suite and media room, gymnasium, laundry, games room, dedicated study areas and a state-of-the-art cinema suite.
All three studios on Kingfisher Court still has 3 years left on the assured rental period, expiring March 2022, generating a current yield of 8%.
Kingfisher Court is perfectly located near two leading universities; University of Huddersfield (24,900 students) and Kirklees College (20,000 students). With only approximately 5,919 beds available and student accommodation demanded by 10,773, there is a significant imbalance at present with the available purpose-built accommodation in Huddersfield and the available units for rent.
If you would like to speak to a member of our consultancy team about the resale units on Kingfisher Court, call 0161 464 3913 or email enquiries@pureinvestor.co.uk.