Junes Newest High Yield UK Residential Developments
Published: 26th June 2017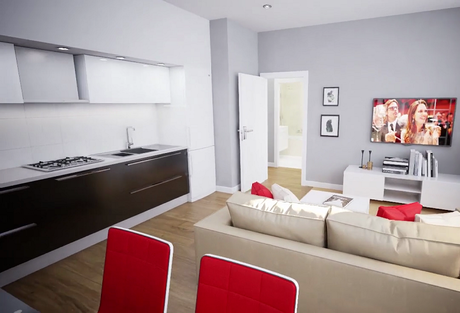 A large number of residential developments have been launched in the UK this month, with them all offering an assured high rental yield and free legals if you use the recommended solicitor. The majority of the developments outlined below are central buildings being renovated in to high standard residential developments.
Old Town Hall is situated within the town centre of Hoyland, which is a metropolitan borough of Barnsley. The development is perfectly situated in close proximity to great transport links, the junction to the M1 and Elsecar Train Station, making Old Town Hall easily accessible. Old Town Hall will comprise of 34 high standard apartments from £60,000 and generate investors an assured 8% net rental yield for 3 years. With Hoyland currently undergoing a multi-million-pound regeneration, Old Town Hall is set to be popular with residents in the area.
Chad House is located within Gateshead, adjacent to the Gateshead highway, meaning the development has excellent direct links to the centre of Newcastle. The centre is set to be transformed to a high-quality public space, creating a new vibrant and diverse economy. Chad House will comprise of a staggering 89 high standard apartments from £60,000, generating an assured 8% net rental yield for 3 years.
Castleview House is a newly built building which was previously used as offices, situated within Runcorn. The site has a secure gated entrance with a fob entry, alongside parking and a Butterfly Day Nursery facilities. Castleview House is the largest residential development launched this month, comprising of a staggering 242 studios and apartments. Investors can achieve an assured 8% net yield for 3 years from £55,000.
Permanent Building in Barnsley is being converted in to 39 well-presented studios and apartments. Each apartment will be designed and created to a high standard, with a good-sized bedroom, contemporary lounge, kitchen and shower rooms. The Permanent Building offers an opportunity to generate an assured rental yield of 8% for 3 years. The development can only be sold as a bulk investment opportunity, with the total purchase price of £2,960,000.
Elmfield Court is he final residential development launched this month. Situated within the regeneration area of Bedlington, Elmfield Court benefits from being a mere walk from the local railway station, making travelling in around the area easy. Elmfield Court is set to comprise of 34 furnished two bedroom apartments from £85,000, offering investors the chance to generate an assured net rental of 8% for 3 years.
If you would like more information on the developments above contact us today on 0161 337 389 to speak to a member of our consultants' team. Or email enquiries@pureinvestor.co.uk for your free online information pack.