Cape Verde Property Investment: 15 Key Answers to Common Due Diligence Questions
Published: 6th December 2017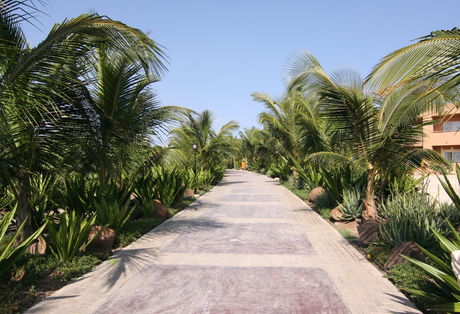 What is Cape Verde's Background?
Cape Verde, locally renamed Cabo Verde in 2013, is an archipelago made up of 10 volcanic islands and eight smaller islands in the central Atlantic Ocean, around 450 kilometres west of Senegal.
The small African nation has a population of approximately 550,000 people spread across nine inhabited islands.
Economic reforms and a stable democracy have a united goal to increase overseas investment, with tourism alone accounting for around 25% of the nation's GDP.
The introduction of Cabo Verde Trade Invest (CTI), a government backed one-stop shop responsible for investment promotion, has made overseas investment easy by centralising the approval of projects and reviewing tax policies.
What is the Current Investment Climate in Cape Verde?
The Government of Cabo Verde has turned to private and foreign investment to drive the country's economic growth, with a focus on tourism, transportation, renewable energy and export-related industries.
What is the Cape Verde Policy Towards Foreign Investment?
The Cape Verde government has introduced initiatives to encourage and streamline foreign investment. This centres around the launch of CTI.
By centralising the approval process for investment and projects, overseas investment has been simplified by streamlining the foreign direct investment process, including:
Advising investors on the expression of interest in investment
Accepting payment of the certificate issuance fee
Providing information about the preferences of country trade agreements Act, including AGOA and ECOWAS
Offering an after-care service, including the Investment Registration Certificate and the ease of resolving bureaucratic issues with other public institutions
Cape Verde is an investment-friendly nation, giving all investors, regardless of nationality, the same rights, duties and obligations, under the laws of Cabo Verde, as residents.
More information on foreign investment in Cape Verde can be found on the CTI website.
Can You Explain Cape Verde's National Tax Relationships?
Cape Verde is recognised as a peripheral nation with the European Union, as well as enjoying bilateral investment agreements with Angola, Austria, Belgium, China, Germany, Holland, Italy, Portugal, Russia, Sweden, Switzerland and the United Kingdom.
Cape Verde also benefits from the African Growth and Opportunity Act (AGOA).
Standard accounting is in line with local regulations and international standards.
How Transparent is Cape Verde's Regulation and Legal System?
Cape Verde is recognised as a model for much of Africa.
The government is committed to making Cape Verde thrive with foreign investment and has been recognised as one the most transparent, well governed nations in the world. In 2016, Cape Verde ranked as the second highest African nation on Transparency International's Corruption perception index, behind Botswana.
Adopting Portuguese civil laws, in thanks to previously being a Portuguese colony, Cape Verde gives investors the right to private property ownership.
How Are My Property Rights Protected?
Cape Verde has established laws that recognise and guarantee the security of property investments.
Recently the Cape Verdean government has announced the implementation of the Land Management for Investment Project, which is expected to improve the investment climate by refining the legal, institutional and procedural factors to offer more security and detailed information to foreign investors.
In 2016, the Cape Verdean government also reduced the cost of property registration tax.
What is the Property Investment Landscape in Cape Verde?
Most foreign property investments in Cape Verde in the past five years have been in the Meliá Hotel chain.
Although Cape Verdeans tend to live on the biggest island, Santiago, home to the capital city Praia, the tourist trade is one of the key growth industries in the country, attracting investors in luxury hotel and casino chains from across the globe.
Tourism is generally spread across the islands of Sal and Boa Vista, accounting for over 77% of the nation's trade tourist trade, with hotel chains in place and many more already in construction.
Why is Tourism Important to Cape Verde?
Tourism accounts for 25% of Cape Verde's GDP.
The increase in tourism, estimated at 13.2% in 2016, the development of a range of luxury new hotels and casinos plus affordable flights have provided a strong framework for tourism to continue to grow.
A nation that has an all-year round warm weather climate, a stable government and low inflation and low-crime rates make Cape Verde a popular location.
How is Tourism Expected to Grow?
In 2016 Meliá Hotels International announced the development of five new hotels within the next five years, all to be constructed in partnership with The Resort Group, starting with the Meliá White Sands Hotel in Boa Vista.
TUI Travel PLC, the large tour operator in the world, have also agreed terms, underwriting minimum occupancy across all Meliá Hotels and a minimum of 1 million tourists until 2019, with up to 20 flights per week from major UK airports, a key driver in the growth of hotel developments.
Where do Most of the Tourists Come From?
Between 2003 and 2015 tourism across Cape Verde increased from 150,000 people per year to approximately 569,000.
Tourism even grew during the outbreak of the Zika virus and low economic growth in European nations.
The countries that contribute the most tourists are:
United Kingdom (20.5%)
Germany (11.1%)
Portugal and France (10.1%)

45.6% of tourists visit the island of Sal, while 31.6% visit Boa Vista, collectively contributing 77.2% of the nation's tourist trade.
Do Meliá Hotels Have Any Already Constructed Hotels in Cape Verde?
Meliá have four already constructed hotels in Cape Verde.
The four already constructed hotels are: Meliá Tortuga Beach, Meliá Dunas Beach Resort & Spa, Meliá Llana Beach Resort & Spa and Sol Dunas.
Each hotel has been built for a different customer in mind:
What Developments Are Currently Under Construction?
Currently in development is the White Sands Hotel and Spa, the first Meliá Hotel on the island of Boa Vista, will be a family-friendly resort including two separate children's pools, a baby pool, adventure playground and kid's club. There will also be a wet bar, poolside restaurant, champagne bar and sports bar, YHI spa treatments and introducing the illustrious Gabi Club®, a beach club experience.
White Sands Hotel & Spa is available to invest in either as a fraction (percentage of a full unit) or as a full unit. Any full unit investments will also give you the opportunity to make use of your investment as a holiday resort.
You can find out more about the White Sands development here.
What are the Proposed Financial Returns for the White Sands Hotel & Spa?
The investment offer breaks down as:
12% net per annum assured rental, paid monthly, during the construction phase, with the development set to launch in Q1 2019
7% minimum assured net returns for the first five years of your ownership
5-year resale option, locked in at your choice of fixed or flexible exchange rates
An illustrative example, based on the purchase of a single unit, assuming construction is completed within 18 months:
£7,200 interest returns during an 18-month construction period
£9,800 interest returns for the remaining 42 months
After five years = £17,000 returns, plus you either own the asset, or can make use of the assisted resell service.
What Currency do I Invest in?
All investments are made in Great British Pounds Sterling (GBP).
Cape Verde has the Cape Verdean escudo, although, as a former Portuguese colony, most places accept Euros.
All investments will be made in the local currency, with returns made in GBP.
You have the option to fix the current exchange rate or leave more flexibility, whichever you believe will give you the greater profit.
What is the Proposed Exit Strategy for the White Sands Hotel & Spa?
After five years you have an option for an assisted resale.